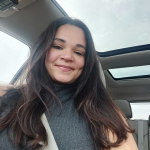 Deborah Reyes
Deborah was born in San Juan , Puerto Rico. She's been traveling to Florida half of her life to visit family and friends.
She loves hiking, kayaking at the Springs, and spending time at the beautiful Florida beaches with her family. Deborah is a huge dog lover and a fan of classic rock music, both make her smile.
She has a Bachelor's degree in Business Management and 13 years of sales experience. Also worked as an English as a Second Language teacher in Michigan for 4 years.
Being fully bilingual gives her the opportunity to interact with Spanish speakers as well. Her passion is to help families achieve their dream of becoming homeowners, and assist them every step of the way. Especially, to make people feel exactly what she felt the day she first held her keys for her new home.
Estoy para servirle.