𝒀𝒐𝒖 𝒅𝒓𝒆𝒂𝒎 𝒐𝒇 𝒉𝒂𝒗𝒊𝒏𝒈 𝒂 𝒘𝒐𝒓𝒌-𝒍𝒊𝒇𝒆 𝒃𝒂𝒍𝒂𝒏𝒄𝒆. 𝑰 𝒅𝒆𝒔𝒊𝒈𝒏𝒆𝒅 𝑪𝒂𝒓𝒓𝒊𝒆 𝑪𝒐𝒖𝒓𝒕𝒏𝒆𝒚 & 𝑪𝒐𝒎𝒑𝒂𝒏𝒚 𝒂𝒕 𝑪𝒉𝒂𝒏𝒈𝒊𝒏𝒈 𝑳𝒂𝒕𝒊𝒕𝒖𝒅𝒆𝒔 𝑹𝒆𝒂𝒍 𝑬𝒔𝒕𝒂𝒕𝒆 𝒇𝒐𝒓 𝒂𝒈𝒆𝒏𝒕𝒔 𝒘𝒉𝒐 𝒘𝒂𝒏𝒕 𝒕𝒐 𝒉𝒂𝒗𝒆 𝒂 𝒍𝒊𝒇𝒆.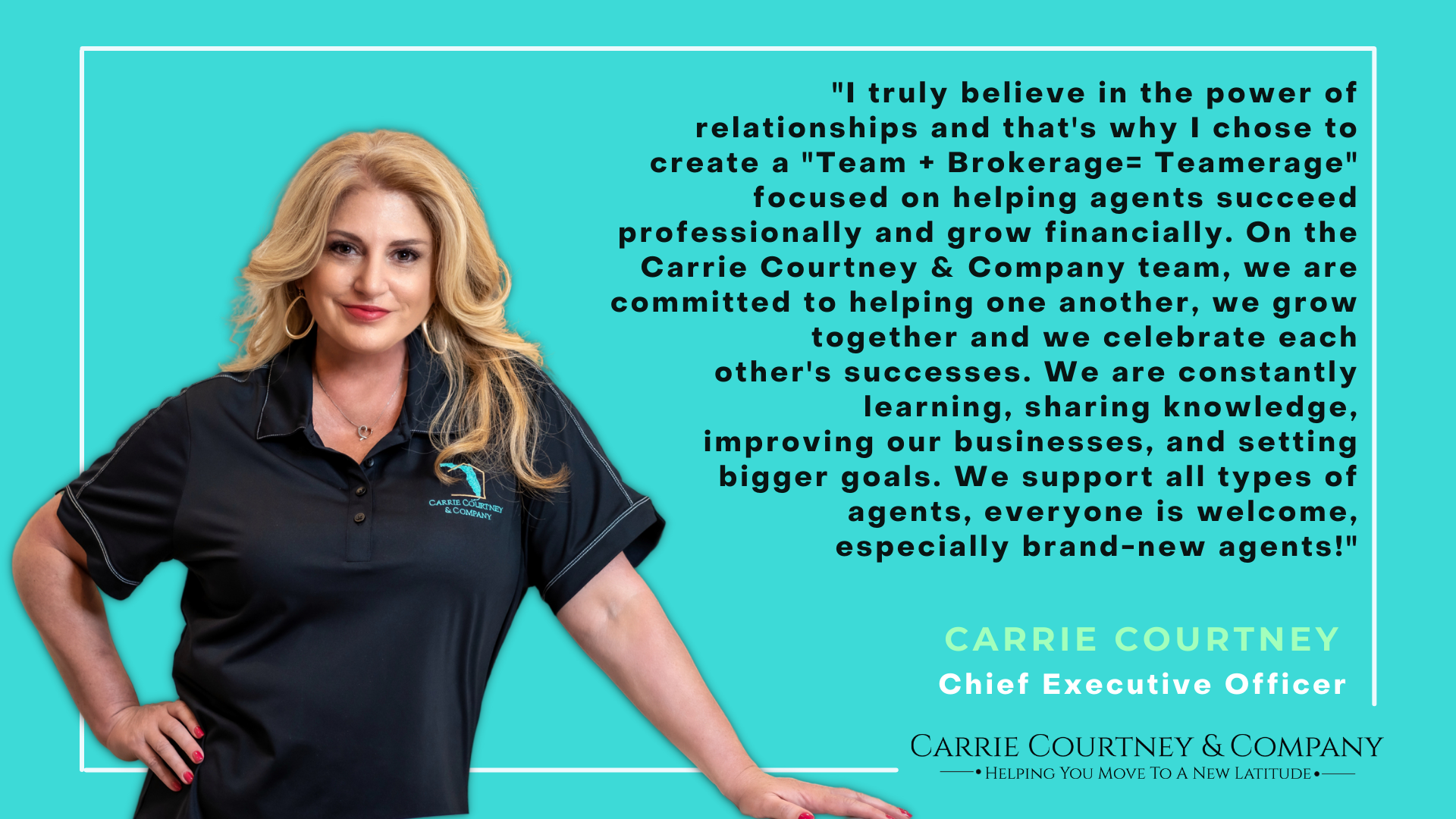 Dear Real Estate Agent:
You may be a current Realtor who knows your potential and works hard to clear a path toward your goals but lacks the support you need to achieve them. Alternatively, you may want to get your real estate license and are not even sure where to start with getting licensed.
Many brokerages promise to provide systems, income, structure, coaching, and other resources but fail to deliver once they draw you in. Due to this and other factors, 87% of all new agents fail within five years of working in the industry. The reason so many agents drop out of the business is simple: they do not know what they are doing—and this often is not their fault. It is an unfortunate truth of our industry that most brokerages do not correctly educate or equip their agents. Even the most hardworking agent will not get anywhere if they are not headed in the right direction.
It is time to stop spinning your wheels. It is time to get smart about your future as an agent.
My name is Carrie Courtney with Changing Latitudes, and I have been in real estate for 16 years. Dave, my husband and partner, has been in real estate for over 20 years. We saw the market go crazy, then we saw it crash, and finally saw it pick back up. We used the internet and sphere marketing to find leads at the very bottom of the market, which some consider one of the worst years ever for real estate.
We flipped that experience into starting our brokerage in 2012. Together with two other partners (all four of us were previously with RE/MAX), Dave and I opened Changing Latitudes Real Estate Services because we noticed all the brokerages at which we worked before—both large and small—did not understand how to support us.
We wanted our new brokerage to make life easier, better, and stand out from every other real estate office and big-box corporate structure. At Carrie Courtney & Company at Changing Latitudes Real Estate, this is our mission.
I have seen agents plateau, wanting to do more. Or new agents rack up tens of thousands of dollars in debt, wasting time and money on useless activities. These agents lay awake at night and wonder, is there a better way? If this sounds familiar, then consider this message your lifeline.
We expect too much from real estate agents. They cannot be experts at marketing, technology, processes, and systems, all while having the time and energy to build relationships and sell homes. I know this because I have been in your shoes.
Carrie Courtney & Company's proven system, support staff, and plug-and-play technology allows you to stay organized and minimize wasted time. We have a process for every single type of client you can imagine. Not only will you be more efficient with our systems, but you will be able to work less and do more of what you love. Our unique relationship as an Elite Agent with HomeLight, Zillow Flex Team, and our Referral Boost program, in particular, will help increase one of the most consistent and reliable sources of business: referrals. We want to give you time back in your life while minimizing stress and maximizing your output. Our support structure allows you to be confident and comfortable with your business, which will only increase as time goes on. We offer the support of an entire team.
Our systems truly work. But don't just take my word for it. Consider the success stories of members of our team!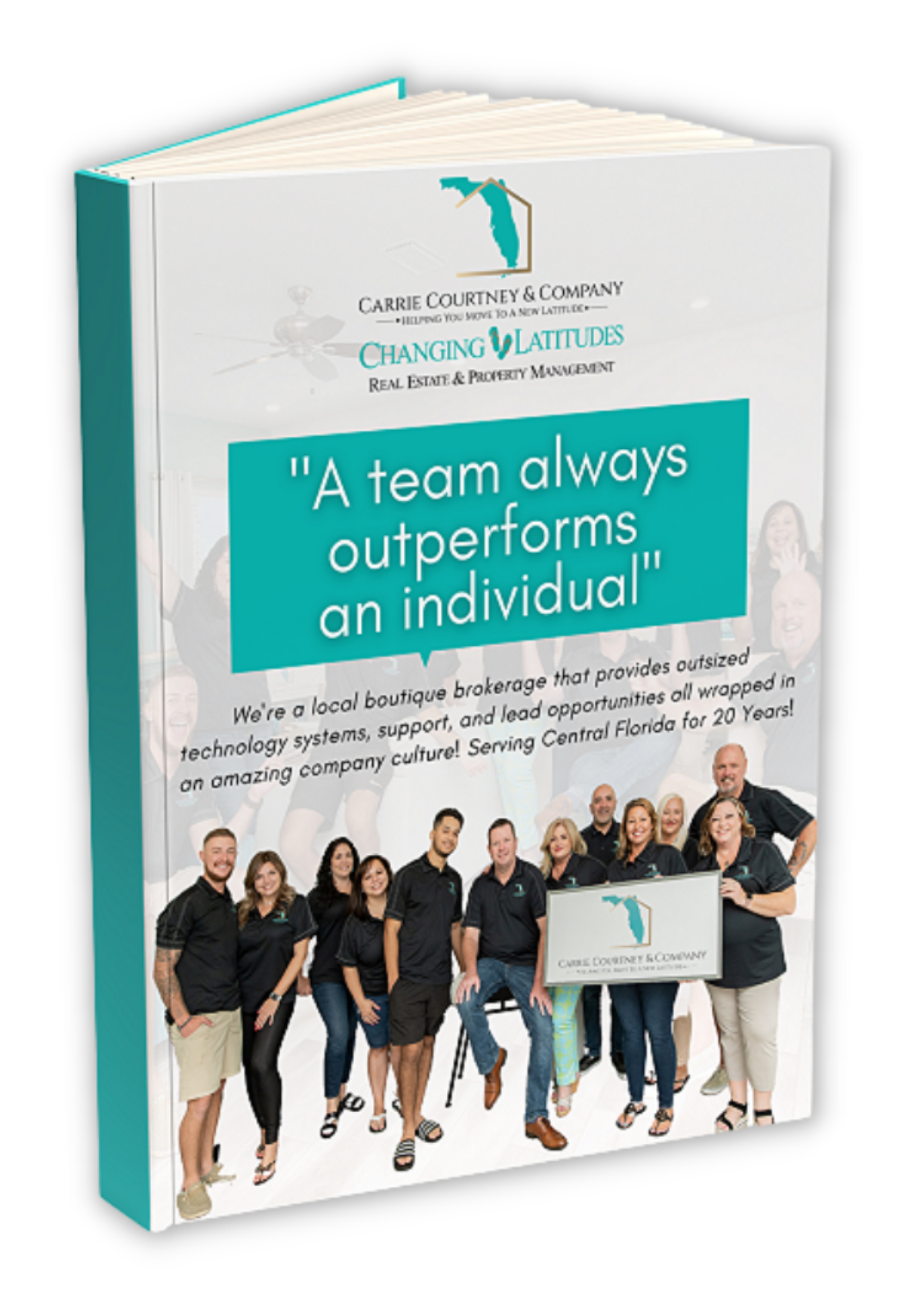 𝐆𝐞𝐭 𝐒𝐦𝐚𝐫𝐭 𝐆𝐮𝐢𝐝𝐞
We'll show you what Carrie Courtney & Company is all about, and how to grow your business while having a life.