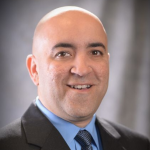 Roy Figueroa
Roy has been a Central Florida resident for over 40 years. He has seen much of the growth that has taken place in the area. Originally from "The Windy City" Chicago, IL. Roy has made sunny Florida his home. His knowledge in Central Florida plays a role in the success of finding the right home for his client.
Throughout his career, Roy has worked in the Hospitality Industry with roles in Recruitment/HR, Operations and Sales. Working in these positions has allowed Roy to grow as a leader while showing many what Orlando has to offer. In recruitment, Roy was able to place individuals in the right position while many were making a start in the Orlando area. As a Realtor, Roy wishes to continue that by now helping individuals purchase their dream home.
In his free time, Roy enjoys spending time with his family and checking out all the local restaurants. You may also find Roy at one of the many concerts taking place around the town.
Roy is ready to work with you. You will quickly realize; Roy is the right choice assisting with the purchase of your home. Also, if you are looking for an agent that speaks Spanish, Roy is your guy.