Looking to Change Your Career?
Change Brokerages?
Come Change Your Life at iad!
"Joining iad means building the future of real estate by embracing a global, innovative, agent-centric and sustainable model"
Clément Delpirou - President
A 15-year-old tidal wave chosen by 20,000+ agents across 2 continents.
An optimal value-sharing scheme with a focus on core service only, enabling profitability and sustainability.
A human centric path for real estate agents careers thanks to a revenue-sharing model, allowing the opportunity to build one's legacy.
Dedicated training, proximity support team, and business-oriented tools create the conditions of this success.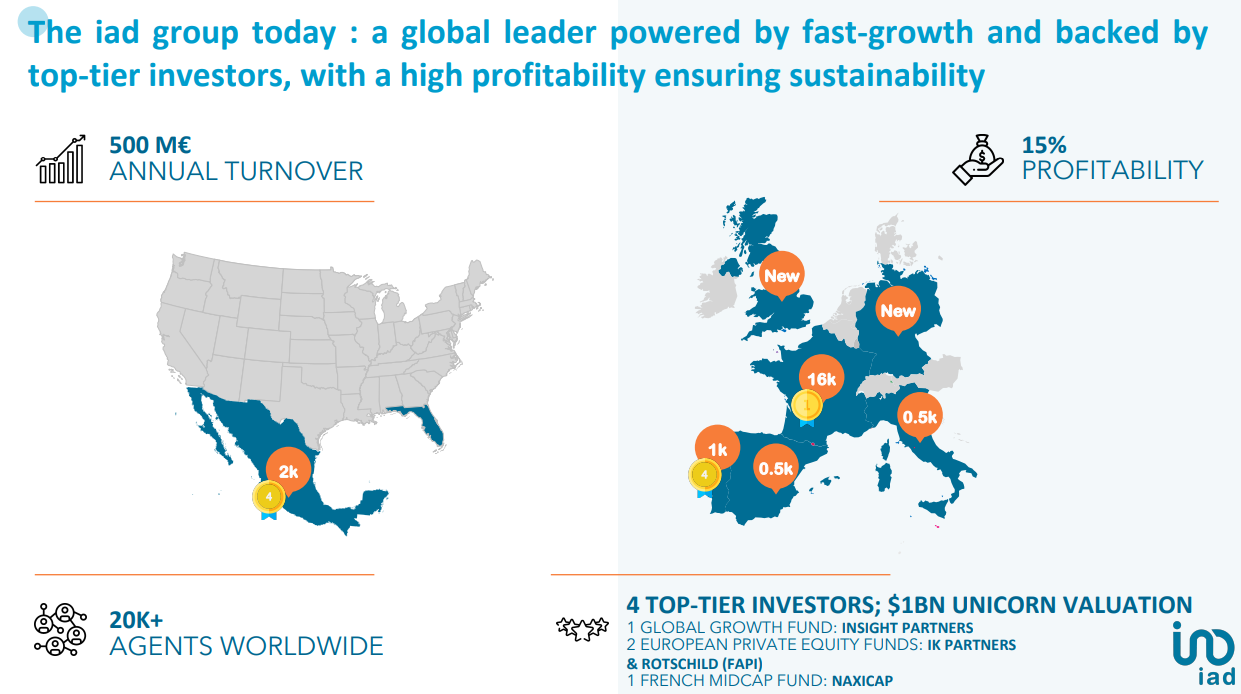 Doing Real Estate A World Of Good
7
Key Reasons

To

Join The Galaxy
Joining iad Florida opens doors to a rewarding and successful real estate career, supported by a dynamic community and a commitment to your professional growth and well-being.
Joining iad Florida allows you to be part of its inception in Florida and the United States, giving you the advantage of being on the ground floor of a growing real estate venture.
iad Florida provides the chance to work towards financial freedom, enabling you to plan for retirement and build a secure future in the real estate industry.
With iad Florida, there are no limits or constraints on your potential for growth. You can expand your business and achieve success without being restricted by traditional boundaries.
Thrive in iad Florida's unique mentoring culture, where experienced professionals provide guidance and support to help you excel in your real estate career.
iad Florida prioritizes agent support, ensuring that you have the necessary tools, resources, and assistance to enhance your productivity and achieve your goals.
Keep progressing and stay ahead of the competition with iad Florida's world-class training programs, which empower you with the knowledge and skills needed to excel in the dynamic real estate market.
iad Florida values your peace of mind, offering an exit strategy for when the time comes to step back from your real estate endeavors, ensuring a smooth transition and a secure future.
"You're always learning while you're doing real estate and anytime something new comes up I can 100% count on my team to help guide me through."
"Dave & Carrie are super cool! The Team-love how they hand-picked everyone and whole TEAM and atmosphere"
"When I had the chance to originally join the team in 2016, it as a no brainer because of your generosity of spirit and willingness to go above and beyound to help a "newbie" such as me."
"I love all the swag but even more I love all the support you give. You've given me so much confidence to move forward"
"I respect your positive attitude and your guidance and everything you do just means so much and it;s just helped me grow"
"I choose to be part of Carrie Courtney and Company with Dave and Carrie because our team is genuine family who strives for our members to obtain the knowledge to be true experts in what we do!"
"Starting on day one, back in the day Dave has always said YES whenever I needed help and he continues to help and support me after 17 years of questions!"
"What it means to work alongside Dave and Carrie, is that you're going to work alongside a team of individuals who strive for greatness."
Our Difference
Welcome to iad Florida, the trailblazing real estate leader in the Sunshine State. We are a rapidly expanding force, riding the wave of success with over 20,000 agents across 8 countries who have chosen iad as their platform of choice. At iad Florida, we believe in a value-sharing approach that optimizes profitability and sustainability, focusing solely on core services to ensure your financial freedom. Our unique revenue-sharing model empowers agents to carve out their own legacy, providing a human-centric path to a rewarding and fulfilling career. With end-to-end support, including dedicated training, a proximity support team, and business-oriented tech tools, we are committed to creating the perfect conditions for your success in the real estate world. Join iad Florida and embark on a journey that will redefine your future in the industry.
Community
We are passionate about serving and hosting our community
Technology
We offer exclusive technology available to capture leads and book appointments
Support
Experienced support teams assist our agents so they can focus on their clients
Marketing
We utilize a well-defined marketing plan to give your listings more visibility
Training
We believe that the success behind each agent stems from what they are taught
LOOKING FOR A NEW OPPORTUNITY?
Interested to
Join Our Team
If you're ready to take your career to the next level, please get in touch. We would love to chat with you about your goals!